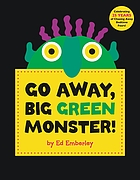 It was MONSTER DAY at Gulf Beaches and boy, were our little monsters in top form today! Actually, they were very good monsters, singing and dancing and following along with all the stories. They are growing up so fast!
Play: I was a bit sidetracked by spiders at the beginning. After our opening song we sang the itsy bitsy spider (I was wearing a spider ring.) Hanging behind me from the clothesline were a medium sized spider and the giant fuzzy tarantula I get out for Halloween. We sang "Great Big Fuzzy Spider Went Up the Water Spout" after Itsy Bitsy and then segued into "This is Little, This is Big."
Books:
Little Monsters

(pop-up) by Jan Pienkowski was gorgeous enough to start things off right! The babies were fascinated by the brightly colored faces. When we were through, we went back and counted all the monsters in the book.

Go Away, Big Green Monster

by Ed Emberley. I've been doing so many different voices lately that I started doing the same with Big Green Monster! "A Long bluish-greenish nose" I said in a kinda dopey voice, "big red mouth with sharp white teeth" was a bit witchy, "two little squiggle ears" was squeaky and batty, etc. The babies really listened!

Tickle Monster by Edward Manceau, and yes, the moms did tickle along with the book. Emphasize body parts.
Monsters Dance bb by Ann Hodgman. Great one with movement to end up storytime with because by this time the kids were all running around anyway.

Anything that gives me a chance to show off my ballroom moves!
If You're a Monster and You Know It, Emberley

Glad Monster, Sad Monster, Emberley
3 Little Monsters sleeping in my bed
1 crawled out from underneath the spread
I called to Mama and Mama said,
"No more monsters sleeping in your bed!", etc., down to zero. I only do 3 instead of 5 for the babies.
(Sung to "If you're happy and you know it."
If you're a monster and you know it show your claws
If you're a monster and you know it show your claws.
If you're a monster and you know it then don't be afraid to show it.
If you're a monster and you know it, show your claws.
Instead of babies and mamas riding on the bus this week, there were
ghosts, "booo!"
bats, "eeeek" and
monsters, "roooar!"
Someone discovered how to smile for the camera.