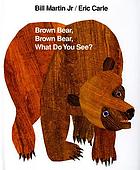 Babies don't always get our jokes and they don't always get the point of the story but they love the sound of a good rhyme. We'll be doing rhyme time at storyhour today!
Books:
Miss Mary Mack big book by Mary Ann Hoberman. Kinda perfect clapping song.
Brown Bear, Brown Bear by Eric Carle. I used the
I used
Kiz Club
Brown Bear figures and sang/chanted this the way Bill Martin does.
JUMP! by Scott Fischer.
Still a Gorilla by Kim Norman
Sometimes I Like to Curl Up in a Ball by Vicki Churchill. Not only is this written in cute rhymes, but it has tons of motions in it -- "Sometimes I like to just walk round and round, I pigeon step, pigeon step, till I fall down." (Pigeon toes

, in which the toes point inwards, is common and occurs at any time from infancy to about age eight. -- Free Dictionary)
Barnyard Dance by the immortal Sandra Boynton. Another one with a lot of great movement. Or any Sandra Boynton.
Babies hard at work!