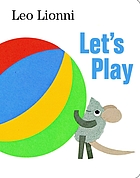 Books:
This line-up really works.
Whose Mouse Are You?

by Robert Kraus. The babies were just a teensy tinsy bit young for all three "sections" of this book. Next time, I'll stop after the second part, where everyone's rescued, and skip the "third" part. But I do love this book.

Maisy Goes on Vacation

by Lucy Cousins. This is a fun and pleasant little tale, with lots going on -- riding a train, jumping on beds, going to the beach.

Let's Play

by

Leo Lionni

. This happy go lucky book is about a happy go lucky mouse ready for a good time: picking flowers, playing with a ball, swimming, eating cheese, and saying goodnight. A great book to read out loud, and I really appreciated the moms chorusing back the actions for me. I had some props and I acted out some of the actions. At the end, I pulled out my moon and we sang Zoom Zoom Zoom, going to the moon.
Songs:
The Old Gray Cat

. I gave my cat to one little girl to hold, and passed out my ten mice among the children. Then we all sang, "The old gray cat is sleeping," and acted out mice scampering and dancing and hiding, etc.
I forgot to do

Three Nice Mice

, and I'm so fond of it!
Abby Glassenberg from While She Sleeps shares her pattern for making these cute mice. I did some two years ago one TV evening and they've come in very handy. I cut a little slit in their tums for my finger.