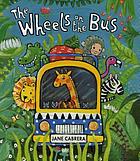 Jane Cabrera's -- looks fun, I'll have to get it

!


Zelinsky's Wheels on the Bus, which is pretty good.
WE had a few extra babies today, I believe because some of the libraries have no storytimes during August, (or maybe word has finally gotten out about how much fun we have here). So I looked at our big crowd, and I said, "Well, let's sing something we all know," and we sang the Wheels on the Bus. Everyone in the room launched energetically in to the Wheels on the Bus.
The babies were astonished. Here they were in a strange room in a strange library, surrounded by a bunch of new people and new babies, and everyone knew the same song they did! Everyone in the room joined in and sang together and we were a community of the Wheels on the Bus. I could see those babies thinking, "Wow, this thing is bigger than just me and the baby next to me, huh!"
Because I'll be doing school time with the older kids (who are leaving me this week, sob!), I just did a little of this and that with the babies.
Hide and Seek Pets by Crossley, a board book, let me dip into my extensive collection of stuffed animals. When we lifted the flap on the flower pots and found the turtle, I brought out my turtle puppet, etc. I wanted to jazz it up a little, so behind the slide, where there was supposed to be another cat, I had a chicken. In the dog house there was a dinosaur. Good for vocab.
BoohBah Spinaraound, board book by ---Boohbah? Not a great piece of literature but it rhymes and has movement, so I could bounce around.
Countdown with Milo board book by Mike Austen. We didn't really read this -- but we sure counted down! All the moms and I counted down from ten, and then the babies blasted off!